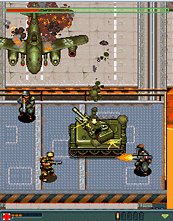 Brothers in Arms: Art of War is a game developed and published by Gameloft for mobile phones, based on Gearbox's Brothers in Arms: Road to Hill 30 license. Art of War is chiefly a top-down shooter, featuring 13 missions in 3 campaigns, including Operation Market Garden. The game also includes parachute missions, rail shooter plane, tank and boat missions, as well as a destructible environment.
Ad blocker interference detected!
Wikia is a free-to-use site that makes money from advertising. We have a modified experience for viewers using ad blockers

Wikia is not accessible if you've made further modifications. Remove the custom ad blocker rule(s) and the page will load as expected.